Data and analytics evolution
The concept that information is important in any business isn't new, but its nature, use and value have moved on a great deal.
Information is now a competitive tool to drive growth, not just a necessary tool to control and sustain a well-run business.
The business insights mix: analytics, business intelligence, and traditional reporting
Businesses are using a combination of advanced analytics - including predictive and prescriptive models, machine learning and artifical intelligencce (AI) - business intelligence and traditional reporting to develop insights. The mix is determined by the needs and ambitions of each individual organisation. However, the emphasis of energy, resources and value is increasingly shifting more towards analytics.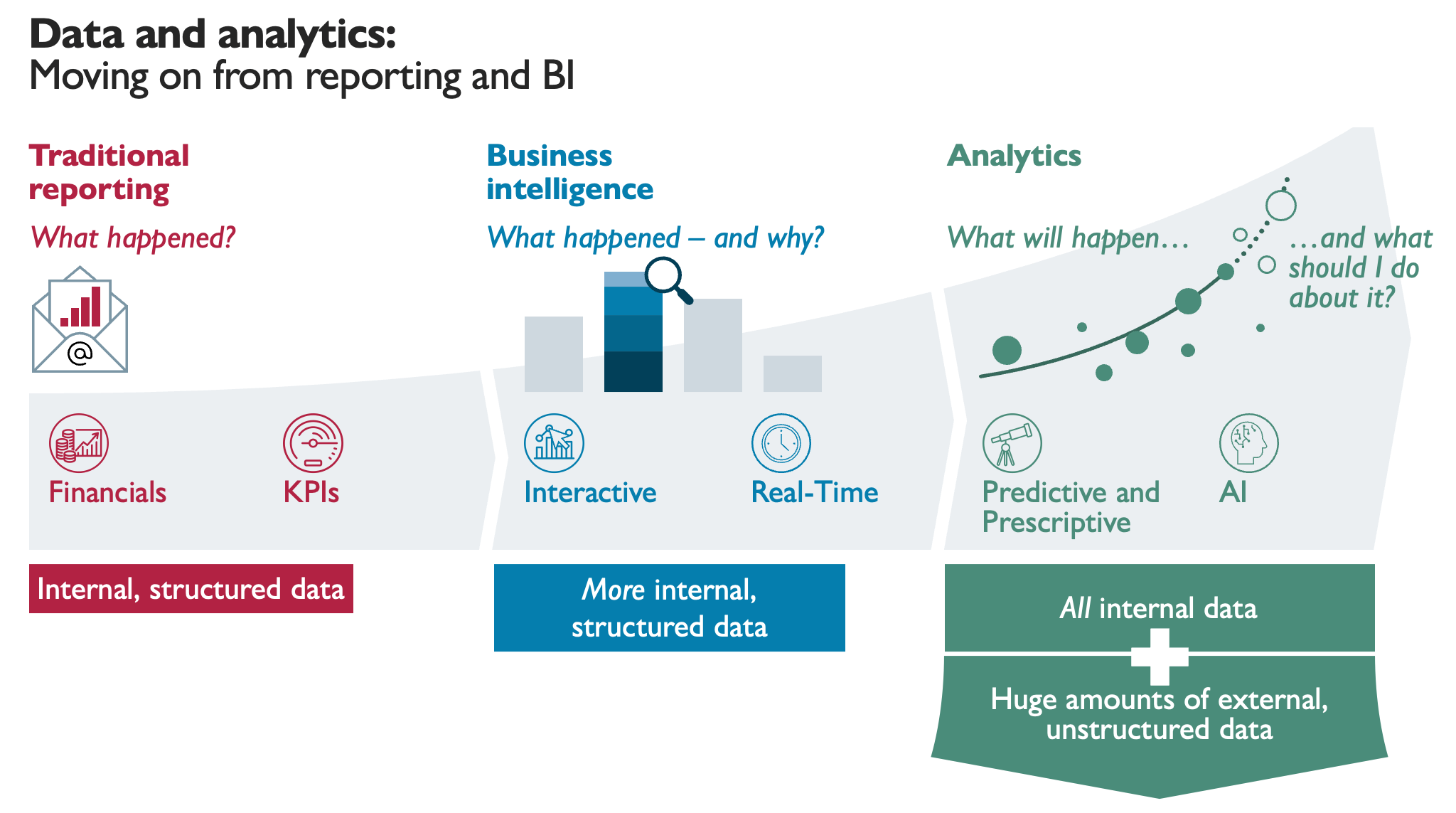 The nature of business information is changing too. It involves not only much larger volumes, hence the term 'big data', but also greater variety – including not just your business but your customers' and consumers' data, for example.
Data sources are becoming more disparate and, often, externally sourced. The increasing digitisation of both people's behaviours and the objects they use is providing a wealth of new data to mine. So the net is cast far wider and more dynamically, with a great variety of unstructured data, such as social media, constantly streaming in. Data has gone from a matter of record to a major strategic asset.
Where I choose Berkeley, it's because what I'm trying to achieve is more nebulous and I need them to help me define the problem, before scoping and making it into a project with milestones. It's usually something I'm not certain on how to articulate or put together structure and solutions for."

Chief Revenue Officer, a financial services company
Data and analytics capabilites
Getting the right data and analytics capabilities in place is a key pre-requisite for effective delivery. Our data and analytics capability framework, and the accompanying maturity assessment tool, can provide a great place to start.
If you're starting from scratch, or maturity is low and this area needs a substantive boost or reset, then it may help to evaluate a full data strategy to define what you need and plot a path to put these capabilities in place. If your organisation already has some capabilities in place, then a maturity assessment across all six capability areas can still be helpful to highlight any gaps or areas to target for improvement.
Data and analytics delivery consultancy: continuous agile delivery
Delivering business insights through great data and analytics capabilities is typically not a 'project' with a hard start and finish. It's a continuous capability which will develop as the business need and technology evolves. The Berkeley Partnership can help you embed a data and analytics capability as part of your organisation, with continuous evolution.
We bring the relevant sector-specific business understanding and consulting insight that's key to applying data and analytics to your business successfully. We have worked on some of the world's leading analytics, insight and big data transformations – from early vision, strategy and business case, all the way through to the hard yards of execution. This gives us the pragmatic experience to cut through the hype and help you understand how to drive the most practical value from analytics, insight and big data in your business.
Data and analytics delivery consultancy: sponsorship
A feature of data and information transformations is often their wide business sponsorship and a struggle to understand the best organisation structures and operating model to execute. Our combination of industry and business knowledge; understanding of data and analytics; technology expertise; and the transformational change know-how to deliver, means that we can help all the business and technology executives involved understand how best to move forward – and then work closely with them to get on and make it happen.
Data and analytics delivery consultancy: proving value, then failing or scaling fast
With so much data available, it can often be difficult to immediately know what's of value to your business. So it's typically important to maintain a backlog of use cases for data, and use pilots or proof of concepts to understand which drive value and which don't. For the successful ones, Berkeley has the big and complex delivery-at-scale experience to work with you so you can quickly scale up and out. Equally, we can help you spot the right ones to 'fail fast' before embarking upon significant technology investment, ensuring you realise the true benefits for your business.
Data and analytics delivery consultancy: managing a macro business case
Making a business case for analytics investment is hard. By helping you find the questions you didn't even know to ask, as well as discover new, often counter-intuitive insights, data and analytics underlines the importance of starting small and demonstrating value.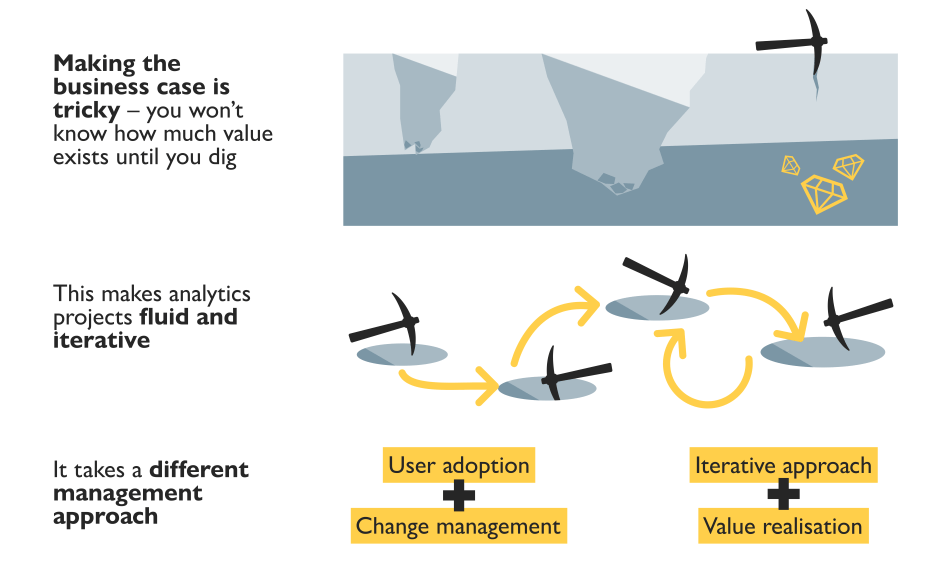 As your capability evolves, we help you check its application against a backlog of use cases and measure the Return on Investment (ROI) of each. We then help you develop the macro level business case supported by each use case ROI to further drive your vision, roadmap and data and analytics enterprise strategy.
Delivering a robust and evolving data and analytics capability is all about sound judgement. The Berkeley Partnership will spend the time to thoroughly learn about your business and ambitions. We draw on our extensive experience to help you make a confident call to realise value for your organisation.
We can help you deliver true value through your data and analytics programme – using the right tools, technologies, people and governance to execute. All this to unlock the power of your information and insight so your data becomes an effective competitive tool to grow your business."

Jon Bradbury