The Berkeley Partnership has achieved carbon neutral status, having invested in certified projects to offset all the firm's carbon emissions in both the UK and US. This represents a major milestone in delivering Berkeley's sustainability strategy, which will ultimately see the firm reduce its overall carbon emissions to achieve net zero.

The firm announced it has committed to support three certified carbon offset projects:
Clean drinking water in Kono, Sierra Leone. The project helps local communities to restore 57 wells, which secures clean drinking water and eliminates the need for boiling water through inefficient wood-fuelled fires – saving an average of 10,000 metric tons of CO2 emissions per year.
Clean oceans. The project enables people in Haiti, Indonesia, Brazil and the Philippines to collect and recycle plastic waste, preventing pollution and protecting the ocean's ecosystem.
Forest protection in Mataven, Colombia. The initiative protects over 2 million acres of tropical forests and safeguards their biodiversity, while supporting local indigenous communities to improve living standards and achieve sustainable economic growth.
Engaging the firm to select carbon offset projects
The individual projects were selected after a firm-wide engagement and selection process.
Jon Bradbury, partner and co-sponsor of The Berkeley Partnership's sustainability working group, said, "Berkeley is proud to be a carbon neutral firm and to have achieved this milestone on our journey to net zero. We believe that taking action towards sustainability is not only the right thing to do, but essential for our long-term business success. For us, it was important to take meaningful action towards achieving real change.
"I'm delighted that we are committed to supporting impactful offset projects, which were chosen after engaging the whole firm. We wanted to ensure that Berkeley selected projects that reflect our own people's values and their priorities for sustainability action."
Measuring Berkeley's carbon footprint
Berkeley selected the offset projects following a comprehensive measurement of the firm's carbon footprint, across both the UK and US, which was independently validated by sustainability consultancy ClimatePartner. The measurement covered all direct and indirect emissions (i.e. Scope 1, 2 and 3 emissions, as defined by the Greenhouse Gas Protocol Corporate Accounting and Reporting Standard).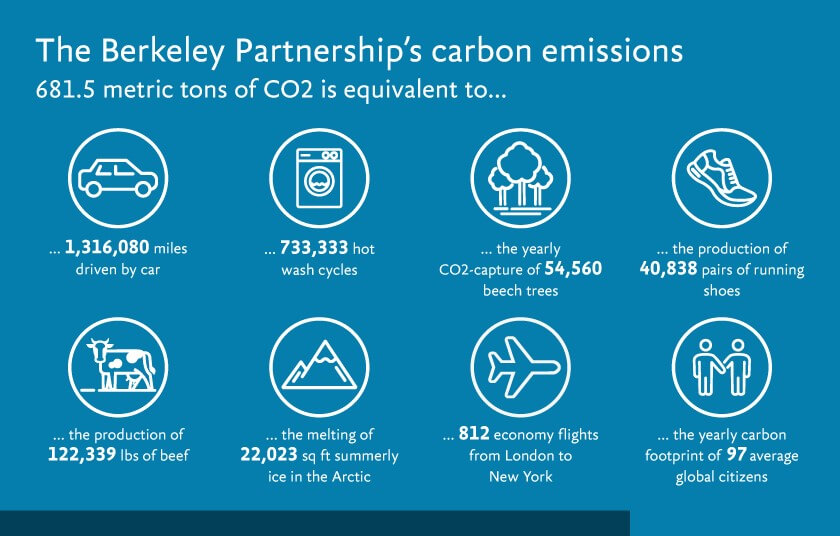 Continuing to support clients to achieve sustainability goals
As part of the firm's sustainability strategy, Berkeley will continue to focus on supporting climate action through client work, helping to deliver the transformative change needed to achieve sustainability outcomes.
Tom Keohane, partner and co-sponsor of The Berkeley Partnership's sustainability working group, said, "Forward-thinking businesses recognize that they need to have sustainability at their heart if they're to be successful in the future, both to meet customer demands and to maximize new commercial opportunities. However, achieving real outcomes can be complex and challenging, and often requires focused, dedicated transformative change."
"As experienced transformation specialists, we are supporting our clients to achieve their sustainability goals. For our people, it's a rewarding prospect to be able to use our skills to support this vital and important work, and make a real difference."
Berkeley's carbon reduction strategy
The next stage of Berkeley's sustainability strategy will see the firm focus on its carbon emissions reduction activity. Berkeley has set science based targets, in line with guidance from the Science Based Target initiative (SBTi), and has committed to reduce overall emissions by 25% by 2026.
Key initiatives include encouraging the use of the most carbon-efficient means of travel wherever possible, while reducing overall levels of travel; extending the lifecycle of IT equipment; and implementing and embedding sustainable practices within all office operations.