The Berkeley Partnership has announced the retirement of one of its original founding partners, Mark Fearn. He will be missed by clients and colleagues alike after an illustrious consulting career.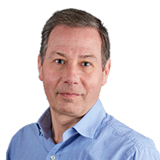 Since setting up Berkeley with four other colleagues, Mark worked with many different clients across a range of sectors, including Unilever, Burberry, Booking.com and AstraZeneca. He also held a number of interim C-level roles.

Working across the full range of strategy and delivery projects gave Mark a particular interest in change management and organizational design and development. His experience underlined that getting the people aspects right was absolutely key to realizing the benefits of any investment in a strategy or transformation initiative.

Mark said, "It's hard to imagine that it's been over 30 years since we formed Berkeley - the time has flown by. It's been a wonderful journey and I am so proud of what we have built – a firm that truly lives by its values and is focused more than anything else on two things: delivering great outcomes to our clients, and recruiting and developing seriously talented people. I know it's obvious, but those two things are very closely linked. I'm leaving the firm in fantastic shape and have no doubt that it will continue to go from strength to strength."

Mark added, "My heartfelt thanks go out to all my colleagues and many clients with whom I've had the pleasure to work over the last 30 years. My plans for the future beyond Berkeley are still forming but are likely to center around some part-time advisory and coaching work, recharging my batteries and reacquainting myself with my piano. Throw in a bit of travel, West Ham winning the Premiership, plus my knees not misbehaving and I'll be a happy man."

We couldn't wish for a better retirement! Good luck and thank you, Mark.