We are delighted that Berkeley has been listed in the top 10 of the Sunday Times 'Best Small Companies to Work For' in the UK.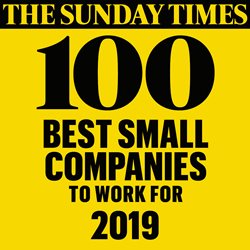 We first entered the awards in 2012 and have consistently retained the top tier 3* rating, acknowledging excellence in the workplace. The list, which gauges workplace engagement and satisfaction through a comprehensive employee survey, examines views on company leadership, team dynamics, the strength of an employee's affiliation to their firm, personal growth prospects, reward and recognition, overall wellbeing and pressure levels at work, and approach to CSR.

Over 300 small companies registered to take part in this year's survey so the competition was fierce!

Berkeley's core principle of 'doing the right thing for our clients' again featured as a key message. Our consultants are highly trusted and have the freedom to do what they feel is right, but partners are close on hand for guidance and support. This really encourages them to go the extra mile for our clients.

"It is exciting. Alongside being shortlisted for the Working Mums awards last year, we are really pleased to be recognized as being one of the best small companies to work for in the UK. Our culture of belonging at Berkeley is about enabling all our people to fulfil their potential, no matter what their background."
Alasdair McGregor, ​Partner

Want to learn more about what its like to work at Berkeley? Find out more here.