Step four – Evaluate your options
This stage enables you to form the directional view of the operating model changes that are required to support your business goals. In evaluating the options it is useful to provide an assessment, outlining pros and cons, to build a wider consensus behind the decisions. You can sometimes move faster than you thought possible, and so the benefit of rapid deployment of new features or capabilities, even if not perfect, may well outweigh the potentially long process of seeking perfection.
Whatever options there are for your operating model, the real value comes from alignment. Without a conscious effort to develop a cross-functional operating model and consider all layers, the outcome can result in functional silos growing in isolation, resulting in a lack of alignment within the components of the operating model or with the agreed business aspirations. Therefore, as you go through the process of evaluation keep challenging yourself against the following questions:
Are the options still aligned with the strategic objectives?
Is there still alignment with the agreed principles, or is there tweaking required?
Are the layers of the operating model working in harmony?
In the current environment this process is not a one-off but something that needs to be stress tested against a range of scenarios as well as being capable of being adapted at short notice to new/emerging information. However, by constantly iterating through this process the result will be a well thought-through outcome, aligned to your business strategy and that you can be confident will be deliverable and successful in the 'real world.'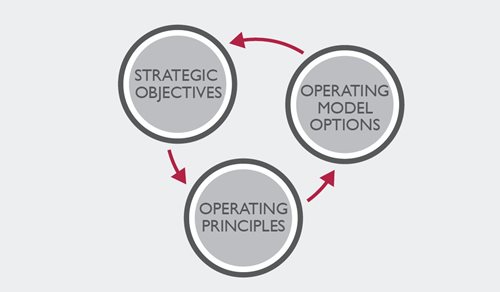 client example
We have worked with a client to define their operating principles around governance. This included features such as "being professional" e.g. having the required capability to be responsive and transparent. Governance processes have been further streamlined to reduce time from 'insight to action', with more frequent but shorter leadership team meetings and more effective delegation to lead responses locally. With these changes, the client is better able to respond to fast-moving challenges.



Step five – Design and implement
For the chosen option, the final step is to complete the design and describe how the new organization takes shape or capabilities implemented over a number of set periods of time. In designing the operating model it is beneficial to do it with implementation in mind. This will allow you to consider quick wins that can be deployed rapidly, for example, in response to immediate challenges vs. transition states that can happen over a longer period of time. A key aspect of the implementation plan is to keep it pragmatic and implementable. For example, you need to consider the effort required from the business people to achieve the changes while keeping the business as usual operations moving. Alternatively there may be a need to invest in a new capability during a time when any spend is under a heavy scrutiny. Building a wider consensus within the business to support and help drive forward the proposed changes is therefore vital. Otherwise there is likely to be resistance or challenge at every step of the delivery.
Change management needs to be part of the implementation roadmap, too. Any change in an operating model is inherently linked to ways in which people work and operate. Explaining the changes required, building buy-in and equipping the individuals will all need to be considered to achieve a lasting change.
Client example: A consumer goods client had been on a strategic journey to reimagine how they connect with consumers across key digital touchpoints on the path to purchase. The leading brands had developed their digital strategies; however, little work had been done on defining the future operating model that would support the business and IT once the program had completed. We led the definition of the future operating model for digital marketing capabilities across local and global functions. Working across global IT and business teams we modelled the future organization required to activate, embed and support the new capabilities.
Conclusions
Current circumstances are likely to have had an impact on the strategy of many businesses, and so a well thought-through operating model, aligned to your evolving business strategy, is as important as ever. Making quick decisions about operating model changes, especially in the most challenging of times, can be difficult given the need to maintain that alignment. Applying just enough rigor and asking the right questions normally means you can establish a coherent set of changes out of something that could have otherwise become a disorderly situation.
How we can help
We have been supporting large organizations with their most complex strategic problems including how to pragmatically deliver them through operating models. Our approach is to deploy small teams of highly-experienced transformation professionals who work on behalf of the client to shape, lead or assure such initiatives. As a result, we have developed a breadth of experience operating model initiatives across all industry sectors.