We are delighted to announce that Richard Bryant and David Irish have become Partners at The Berkeley Partnership, effective 1st July 2020.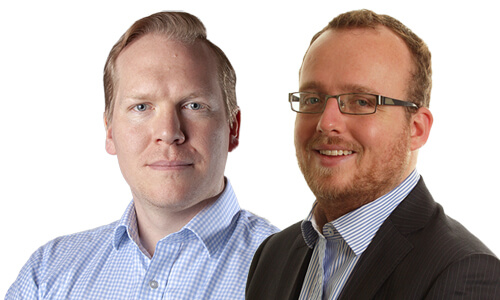 With these latest additions, the Berkeley partner team grows to twenty. Richard continues to be based in London, whilst David is based in the firm's New York office.

Richard joined Berkeley in 2013 and has since worked on major strategy, technology and business change programs across a number of industries including retail and media, with both private and public sector organisations. Recently he led a large change programme across the EMEA region for the world's largest advertising company and he is now supporting a major UK retailer to deliver an Oracle retail project. Throughout his career at Berkeley, Richard has helped our clients to achieve their most ambitious goals.

David joined Berkeley in 2012 and since then much of his work has focused on leading complex system implementation programs, business change activities and large scale IT transformation projects. Bringing extensive program delivery experience gained across a broad range of technologies and sectors, David transferred to Berkeley's New York office in 2017. David continues to focus on helping his clients manage complex portfolios of change effectively, to deliver far reaching business transformation.

Commenting on his new role, David says, "Berkeley is a great place to be a management consultant and so it's fantastic to be joining the partnership here. The values of this firm have stood the test of time and I look forward to helping carry them on into the future…. always working side by side with our clients on the biggest opportunities and challenges that they face."

Richard added, "Berkeley is a truly value-based business, with enduring principles that have underpinned nearly 30 years of successfully helping our clients whilst also providing rewarding careers for our consultants. It's a real privilege to be joining the partnership and I look forward to helping carry these values forward with us in the future."

You can read more about Richard and David here.